RESULTS PAGE

University of Kentucky

HIGH SCHOOL INDOOR INVITATIONAL

Lexington,Kentucky  ---  Saturday, Feb. 19th


The University of Kentucky was pleased to be a host for many of the nations elite athletes for the 12th Annual Univ. of Kentucky High School Invitational. ANOTHER outstanding meet with incredibly talented athletes.

125 Performances qualified for a national ranking with DYESTAT.COM Elite rank lists. It is hard for any meet in the nation to beat these deep results - even the Simplot Games in Utah with over 2000 athletes which ended up with 165 Elite Performances on this weekend. (The UK Invite is limited to just at 500 athletes).

27 Performances made it into the Top 10 of the U.S. indoor high school lists for the 2005 season so far.

121 Performances made the standards to compete at the NIKE INDOOR NATIONAL CHAMPIONSHIPS in March.

4 MEET RECORDS FALL in 26 events!!

Even though there were fewer records this year than in 2004 (7 set last year)....the records are just starting to get tougher to break. In addition, the 2005 UK Invite also produced 4 new #1 U.S. leaders. (**2 of those #1 performances were broken at the Simplot Games later in the day)

A link to the Lexington newspaper story coverage of the meet is available on the button up this page on the left.

Also a thank you to all the team & club coaches who obviously put forth a great effort on behalf of their athletes. We hope we make it worthwhile and a trip to look forward to each year for you, the athletes, and their parents!

Come back to visit the website again...I will add other interesting notes about the meet (and how it compared to others in the U.S.) over the next few days.

Feel free to let me know any suggestions or comments both good or bad from the view of an athlete, a coach, or a spectator. Email me at:   jimkaiser@mindspring.com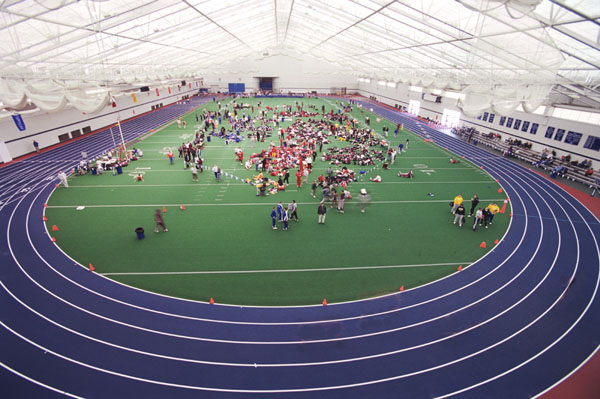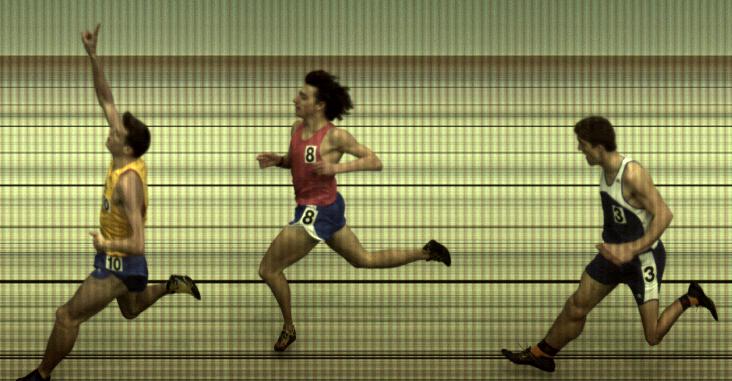 MENS 800m - heat 1 --- Evan Bardach (Carmel TC-Indiana) is visibly pleased with his 1:54.07 & win over Andrew Bumbalough (Brentwood TC - Tennessee) 1:54.42 and Patrick Morgan (Boyle Co - Kentucky) 1:54.87* a 2-second P.R.