RESULTS PAGE

University of Kentucky

HIGH SCHOOL INDOOR INVITATIONAL

Lexington,Kentucky  ---  Saturday, Feb. 18th


The University of Kentucky was pleased to be a host for many of the nations elite athletes for the 13th Annual Univ. of Kentucky High School Invitational. ANOTHER outstanding meet with incredibly talented athletes.

Even though "dyestat" made their standards for ranking tougher in 2006....117 Performances qualified for a national ranking with DYESTAT.COM Elite rank lists. It is hard for any meet in the nation to beat these deep results - even the Simplot Games in Utah with over 2000 athletes. (The UK Invite is limited to just at 500 athletes).

165 Performances made the standards to compete at the NIKE INDOOR NATIONAL CHAMPIONSHIPS in March.

(we had 121 in '05)

8 MEET RECORDS FALL in 26 events!!

In addition, the 2006 UK Invite also produced 6 new #1 U.S. leaders. (**2 of those #1 performances were broken at the Simplot Games later in the day) + a # 2  ALL-TIME U.S. prep performance in the Womens 60m hurdles.

Also a thank you to all the team & club coaches who obviously put forth a great effort on behalf of their athletes. We hope we make it worthwhile and a trip to look forward to each year for you, the athletes, and their parents!

Come back to visit the website again...I will add other interesting notes about the meet (and how it compared to others in the U.S.) over the next few days.

Feel free to let me know any suggestions or comments both good or bad from the view of an athlete, a coach, or a spectator. Email me at:   jimkaiser@mindspring.com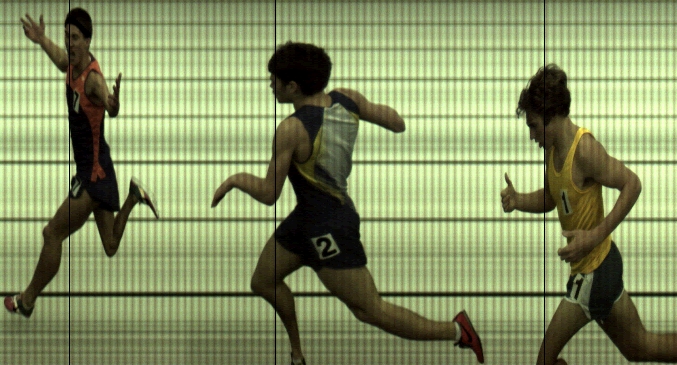 GIRLS 60m Hurdle Final - Tennessee's Jacquelyn Coward (Track Knoxville TC) posted the U.S. prep #2 ALL-TIME indoor performance of 8.41 (2nd place was 8.84 but looks closer than it really was



BOYS 1 mile - heat 1 --- Adam Green (Flashes TC-Indiana) is happy with his breakthru 4:16.76 & win over Andrew Perkins (Wisconsin) 4:17.88 and Footlocker Finalist Rob Sorrell (Tennessee) 4:19.22