Welcome to UKTrack.com

Extended Web Info Center for Univ. of KY Track & Field HS Meets

Q    U    I    C    K                  L    I    N    K    S

HIGH SCHOOL INDOOR MEETS

Sat, January 31st, 2015 - Wildcat HS Classic

Sat, February 21st,2015 -UK HS Invitational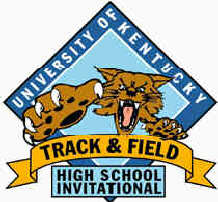 UK COLLEGIATE INDOOR MEETS

Fri/Sat, Jan 16 & 17 - Ky Collegiate Invite

Fri/Sat, Jan 23 & 24 - Rod McCravy Memorial

WILDCAT CLASSIC HIGH SCHOOL

MEET

Saturday

JANUARY 31, 2015

This meet is open ONLY to

Kentucky High School Teams

STRICT entry deadline of Wednesday, January 28 at 7:00pm Eastern Time

UNIV. OF KENTUCKY

HIGH SCHOOL

INVITATIONAL

Saturday

FEBRUARY 21, 2015

This meet is available to High School Athletes from any state depending on their State HS Association Rules

This meet is selective and has entry guidelines

STRICT entry deadline of Tuesday, February 17th at 9:00pm Eastern Time

Selected athletes accepted into the meet will then be posted on Wednesday, Feb.18th

NEWS AND NOTES POSTED HERE

As meet dates approach, we will add last minute reminders and information here.

WEATHER UPDATES POSTED HERE IF NECESSARY***

COACHES ARE ADVISED TO READ THRU THE

MEET INFORMATION COMPLETELY.

We require that athletes use 1/4 inch pyramid spikes or smaller

Starting Blocks are provided at the starting line.

AFTER THE UK HIGH SCHOOL INVITE ENTRY DEADLINE.....ANY ENTRIES RECEIVED WILL GO TO "LATE STATUS"

Entries received after the entry deadline won't be accepted ahead of any "on-time" entries. There is no "postmark" deadline - it MUST be in our hands on deadline day. If you are mailing it, you should mail it extra, extra early to really guarantee that the post-office will get it to us without the possibility of weather delays, etc.

Additional UK Track & Field News plus other UK Athletic News available at the OFFICIAL UK ATHLETICS WEBSITE :  www.ukathletics.com